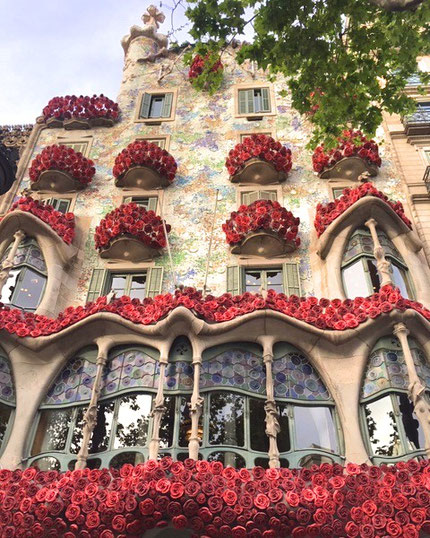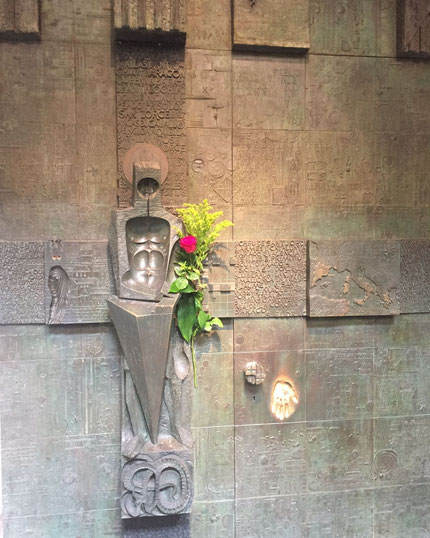 ITALIANO 
La festa di San Jordi (San Giorgio) è sicuramente una delle festa più amate  a Barcellona e in tutta la Catalogna e vissuta con molto entusiasmo e allegria. Il 23 aprile la città si riempie di gente e bancarelle di rose e libri e si respira l'atmosfera di questa tradizione basata sull'amore e la cultura.
Secondo la leggenda San Jordi uccise il drago che da giorni minacciava gli abitanti del villaggio di Montblanc e libera la principessa. Dal sangue del drago nacque una rosa, che venne offerta alla principessa. Per questo motivo la tradizione vuole che in questo giorno le donne ricevano in regalo una rosa rossa e gli uomini un libro. Il 23 aprile è anche la giornata internazionale del Libro dichiarata dall'Unesco nel 1995. E` ormai tradizione comprare le ultime novità editoriali o farsi firmare le copie dei libri dagli autori e scrittori. Quindi non sorprendetevi se i barcellonesi affollano le strade della città fin dalle prime ore della giornata alla ricerca di una rosa e di un libro da regalare non solo alla persona amata ma anche ad amici e parenti. Chiunque visiti Barcellona il 23 di aprile, rimarrà affascinato dall'energia e dalla creatività che si respira in città: apertura straordinari di alcuni edifici, castells " torri umane" , conferenze e concerti.
Quest'anno, dovuto al Coronavirus, le celebrazioni sono state rinviate al 23 di luglio. Per tutte le informazioni riguardi gli eventi, conferenze, attività familiari e concerti previsti per il 23 di luglio, continuate a seguirci sulle reti sociali e sul blog.
Feliz Dia de San Jordi!!!
ENGLISH
The festivity of San Jordi (Saint George) is one of the most popular celebrations in Barcelona and all Catalonia and celebrated with lot of enthusiasm and joy. On April 23rd, streets are filled with people and stalls selling books and roses and you can really experience this tradition based on love and culture.
According to the legend, long time ago, Saint George defeated a ferocious dragon who frightened the inhabitants of the small city of Montblanc.  To free the princess that was about to be eaten by the dragon, Saint George speared the dragon and killed it. From the dragon's blood a red rose grew which was offered to the princess. The tradition tells that men give roses to her beloved and women give men books. In addition, April 23rd, is the World Book Day that was declared by Unesco in 1995. It has become a classic tradition to get the latest literary novelties, special editions or the signature and dedication of your favorite author. Don't be surprised if the streets are full of people since the early moring looking for a red rose or a book to give their beloved, parents or friends. If you will visit Barcelona on April 23rd, you will be surprised by the special atmosphere of this day: Open Doors Days of emblematic buildings, "castells" (human towers) or even cultural activities like photography contests, readings or concerts
Due to Coronavirus, this year we have to stay home and all celebrations are postponed to July 23rd. Please follow us on the social networks and our blog to be updated about events, conferences, family workshops and concerts.
Feliz Dia de San Jordi!!

ESPAÑOL        La fiesta de San Jordi es sin duda una de las mas queridas en Barcelona y en toda Cataluña. El 23 de abril la ciudad se llena de puestos donde se venden rosas y libros, y se respira esta tradición cultural.
Según la leyenda San Jorge lucha contra el dragón que esta atemorizando la villa de Montblanc y libera a la princesa. De la sangre del dragón brota un rosal que San Jordi ofrece a la princesa. Por este motivo el 23 de abril las mujeres son obsequiadas con una rosa. El 23 de abril es también el Dia Internacional del Libro, asi que los hombres reciben un libro como regalo. Es tradición comprar las últimas novedades editoriales, o hacerse firmar los ejemplares por los escritores. Normalmente los barceloneses llenamos las calles buscando rosas y libros para la persona amada, pero también para amigos y parientes. Cualquiera que visite  Barcelona ese día se quedara fascinado de la energía que se respira en la ciudad; apertura extraordinaria de monumentos y edificios, castells, música etc.
Este año San Jordi es diferente. Por culpa del coronavirus no podemos salir a celebrarlo, aunque parece que las celebraciones se posponen al 23 de julio. Para continuar informados no dejéis de seguirnos en redes !!!
Feliz San Jordi !!!!!